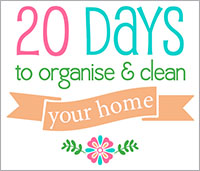 It's not too late to start!!  Subscribe to the challenge here.  Share your photos on instagram or twitter using #TOH20daychallenge.  Follow along with the discussion on facebook.
That's right, I am setting you all a challenge, 20 days to organise and clean your home.  I did it and I know you can too!  
Before we start I want to say a big THANK YOU.  The response to this challenge has been overwhelming and far more people have subscribed than I could have ever imagined.  I hope you all enjoy the challenge as much as I have enjoyed putting it together.  
If you are following along on Instagram & Twitter you can use the hashtag #TOH20daychallenge so I can follow along with you all

Day 1 starts Monday 3rd September, however we will be starting this week with pre challenge tasks such as setting up a folder for the challenge, establish some routines and put together a cleaning kit so you will be prepared for Day 1.
How will the challenge work?
The challenge consists of the following daily tasks:
Clean
Organise
Declutter
New Habit
5 minutes only
What if I don't have enough time?
I know that everybody has different schedules, working, newborn baby, all the kids at home so adapt these tasks around your time and family.  If you are not able to complete one of them that's perfectly OK, it can be finished at a different time.
When will the tasks be published?
I will publish the challenge posts at 4pm the day before.  Eg.  Day 1 will be published at 4pm Sunday 2nd September, Day 2 4pm Monday 3rd September, this is so you are able to prepare the night before.  I will provide you with a daily printable, filled with each of the tasks.  The blog post will give you a guide on each of the tasks.    
Why 20 days?
Challenge tasks are published Monday-Friday.  I don't believe in cleaning every single day, we need to take the weekends off to spend time with our family and enjoying the outdoors.

During this challenge I will provide you with printables such as:
Daily Challenge printable for you to use as a checklist for each of the challenge tasks and to look back on at a later date.
To-do list
Routine Charts
Room Cleaning Checklists
Notes pages
Keep all these printables together tidily in a folder.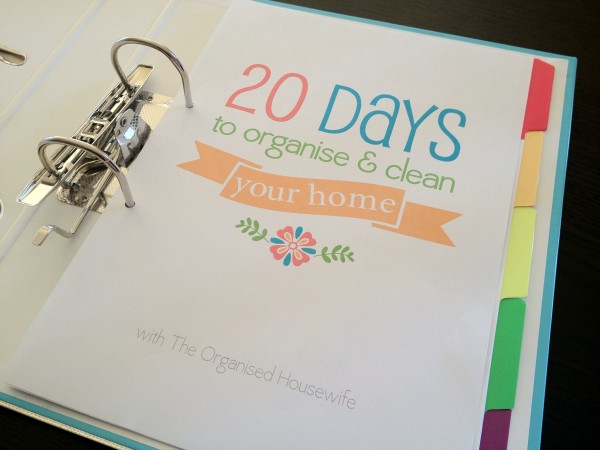 Supplies needed for this task:
Ring binder
Pack of 5 dividers
Have on hand at least 40 pieces of A4 paper to print the printables
A printer
Print the cover page for the challenge and place in your binder
Label your dividers:  Tasks, Checklists, Routines, Notes and Other
Cover page

As I mentioned above the response to the challenge has been great and I have had a request to include a linky with the challenge.  A linky is for bloggers that are following along which can link up their blog posts about the challenge and we can click on their image and see how they are going in the challenge.  I will have a link up each Saturday where bloggers can add their posts and I will share a handful of them with you.  So please if you are going to join the challenge please add your link below, remember to add the button to your page to share the challenge with others.