Welcome to all my new readers!!  Each Sunday I share my meal plan for the week.  Meal planning would have to be one of my upmost important organising tasks each week.  If you haven't had a chance to browse through the blog you may find these posts have great meal planning tips:
Project Life
I just wanted to share this with you today as I didn't want to disrupt the Back to School Series which is continuing this week.  As I have mentioned on the facebook page, I am going to be completing the Becky Higgins 'Project Life'.  I received the kit as a Christmas present from my hubby, shipping was delayed and it arrived on my birthday…bonus!!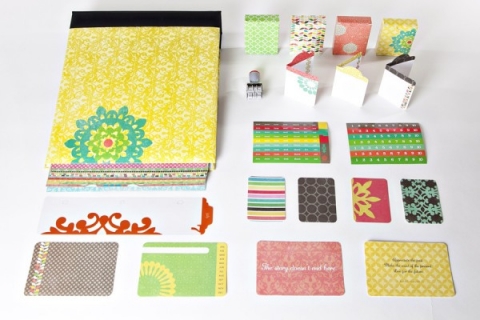 If you aren't a scrapbooker chances are you haven't heard of Project Life.  Project Life is a kit delivered to your door, it includes everything you need (see above):  scrapbook album, photo pages with pockets, journaling cards, monthly dividers, date stamp, some paper and number stickers.  After you have set up the album, which only takes 30 min, all you need to do is add your photos.  They could be photo's of the past you haven't yet added to an album, however I am adding a photo a day through 2011. Other examples could be a theme a week/month, a holiday album, school year book, a book of birthday's.  There are many different way's you can use this album, it's yours to do as you please.  Add your photo's to the album and use the journaling cards to write a little note the picture.
I have a colour printer at home, but it doesn't print great photos, so I have gathered all my photo's in one folder on my computer (and will keep adding each daily photo) and when there is a special at my preferred photo printers I will get them all done.  However in the mean time so I don't get lost on which photo belongs to which day I created this 'Project Life Photo Planner'.  There is a planner for each month of the year.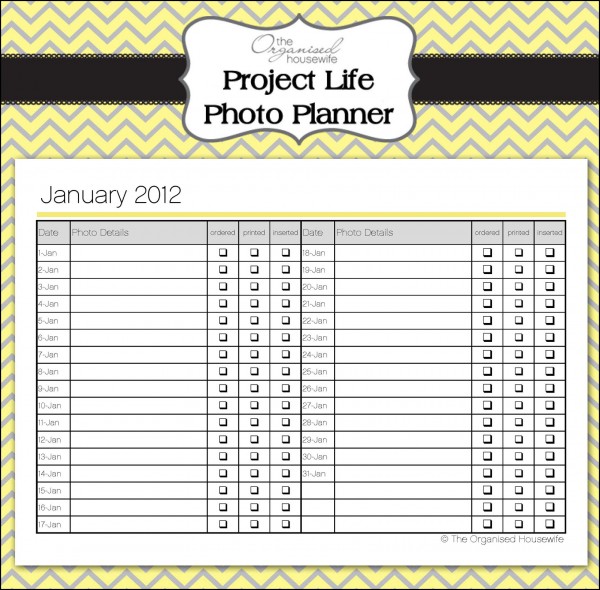 I write down the description of the photo, cross 'ordered' when I have placed them in my 'to print folder'.  Once printed will mark with a cross to confirm that day is completed.  I have added these pages to a plastic covered little folder with a removable spine, slipped in the 12 months, added the spine and now have a great way to 'organise' my project life unprinted photos.
Here are some photo's of my Project Life so far:
My Project Life Photo Planner 2011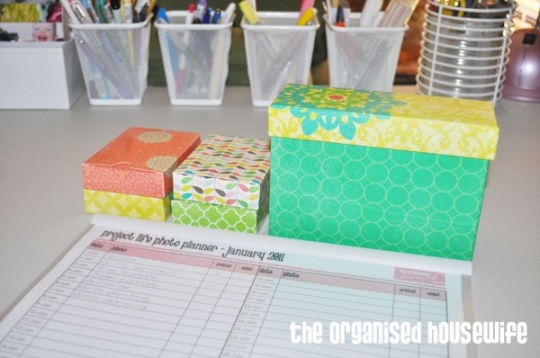 1st Page, I would like to add a family photo or a photo of each of the kids to this front page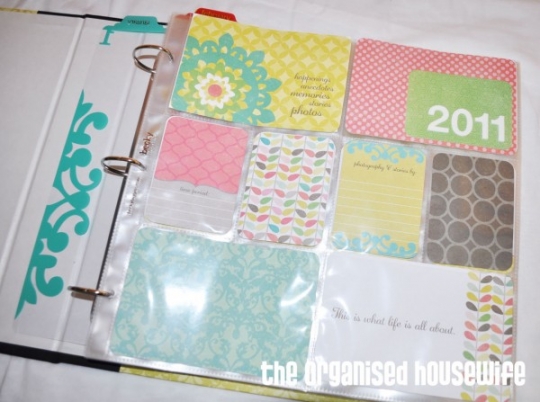 My journaling all up to date, just waiting for photo.  You can use the journaling cards randomly, however I am choosing to use 7 of the same design each week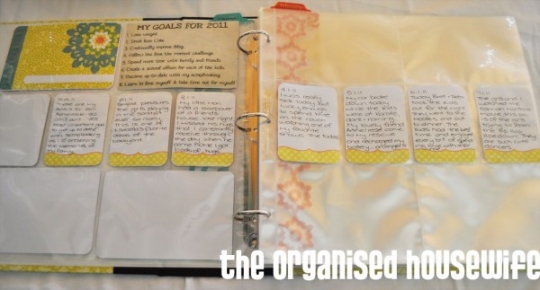 Just for fun I wanted to show you this Kikki K desk organiser I received for Christmas, I absolutely love this organiser.  It is storing the photo's that I have had printed, ready for me to scrap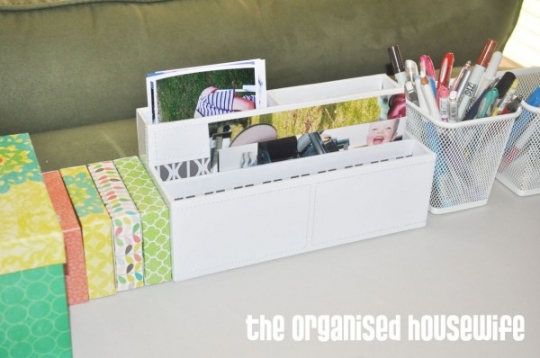 Now back to my meal plan for the week:
Monday– Honey, Soy and Garlic Chicken Kebabs with vegetables
Tuesday - Beef Stroganoff with pasta
Wednesday– Something from the freezer
Thursday– Thai
Friday –  Sausage Potato and Vegetables
Saturday – Chicken and Vegetable Pie
Sunday - Cheesy Spinach Cannelloni with BBQ Chicken sprinkled over top and vegetables
Baking – Chocolate Cake
Hope you are all enjoying the lazy Sunday, weather is dreadful again here in on the Gold Coast. Wishing for sunshine for the last few weeks of school holidays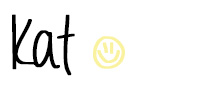 Love these ideas? Sign up for updates....It's FREE!