#29 Broken Electrical Equipment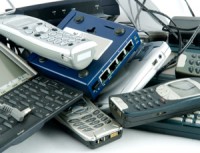 Do you have a broken stereo, frypan, iron, phone, VCR or lamp lying around the house?
What are you planning on doing with your broken item?  Are you intending on fixing it?  If so, how long ago did it break, let's be realistic:
If it broke over 6 months ago, make an effort to try and fix it.  
If it broke over 12 months ago, please part with it.  It must not mean all that much to you otherwise you would have fixed it already.  
Are you keeping it for spare parts?  Keep the items you need, create a box dedicated to spare parts and throw away all other items you don't require.
What electrical equipment are you holding onto and why?