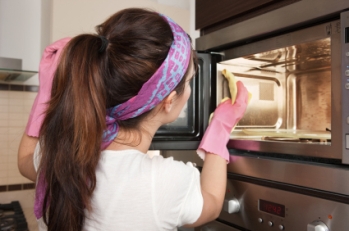 I give my microwave a wipe over each week.  My microwave manual it recommends not to use harsh chemicals or abrasives, so I usually fill my sink with warm soapy water and use this with my sponge to wipe down the microwave.
HOW TO CLEAN MICROWAVE
Half fill a glass jug, add 1 tablespoon of vinegar.  Place in microwave and turn on for 5 min. (this will loosen all the food)
Remove glass jug
Remove the glass turntable from microwave, clean and dry.
Remove the rotating element the plate sits on, clean and dry. This will give you easier access to the dirt in the microwave.
Wipe over inside of mircowave
Place element and turntable back into microwave
Wipe over outside of micowave, polish if stainless steel.
Once a month,
Remove microwave from shelf.
Wipe shelf to remove all dust.
Wipe the microwave electrical cord, removing all dust particals and give the outside a wipe down too. Place back on shelf.
If there are any sticky or grimy parts, wring sponge slighly for a small amount of water to sit ontop of grim for a minute.