Over the years I have tried many different cleaning products.  However, recently I have converted over to the simple vinegar and bicarb remedy.  Together it is really effective, non toxic and low in price.  I still however use surface wipes for the loo.  Now all my cleaning supplies can fit into one bucket, making it easy to go from room to room. 
This is my new and improved cleaning kit!

In my cleaning kit I have:
Bicarb
Vinegar in spray bottle
Sugar soap in spray bottle
Gumption
Toilet discs
Surface cleaning wipes
Shower wipes
Mirror wipes
Sponge
Cleaning brush
Microfibre cloth
Sock
Household bucket from Woolworths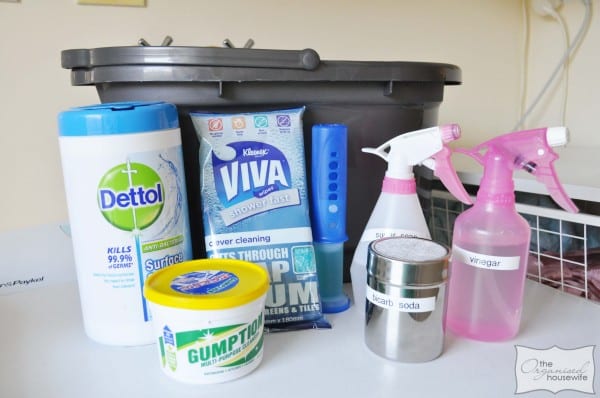 Bicarb
Together bicarb and vinegar are a great combination for cleaning the shower, around the basin taps, the oven, almost everywhere.  I keep my bicarb in a powdered sugar shaker, from spotlight.  Shaking required amount then spray on vinegar. 
Vinegar
I purchase a big bottle of vinegar and empty as required into the spray bottle.  Spray bottles can be found at all hardware and discount shops.  Remember to label your bottles.  Vinegar is such a versatile product. Don't be put off by the odour I promise you it will dissaear in 5 mintues.   I use vinegar and hot water to clean my floors, storing this solution in my Rubbermaid Reveal Mop, always ready to quickly clean up a mess. 
Sugar soap and sock
I use sugar soap and a spare sock to clean the walls.  Spray on the sugar soap with one hand and wipe over with a sock on the other hand.  Quickly and easily picking up all dirt on the walls. 
Gumption
Gumption is used for:
Hard water stains around the bathroom sink and tub
Stubborn marks on the walls
Cleaning the ceramic stovetop
Pots and pans
This tub will last you years.
Toilet Discs
After cleaning the toilet I like to put the discs in the bowl as it continually gives it a fresh smell.
Surface Cleaning Wipes
I use surface cleaning wipes to clean the toilet.  Prior to this I was using the toilet paper and a disinfectant, but I was using too much loo paper.  I prefer to use a disinfectant wipe that I can dispose of. 
Shower Wipes
These wipes have made cleaning the shower alot easier.  I sprinkle bi-carb and vinegar on the tiles, while that sits for 10 minutes I wipe down the screens.  They are designed to cut through soap scum with ease, it's unique non-scratch dual textured fabric, has a 'scrub side' to lift and trap stubborn soap and a 'smooth side' to wipe away remaining grime and residue, as well as an anti-scum solution to reduce future build-up.  I then use my cleaning brush to scrub the tiles, rinse and finished.
Mirror Wipes
Viva Glass & Mirror wipes are strong reusable cloth type wipes, which leave your glass and mirrors sparkling.  There are 2 steps to this system dampen the blue wipe then clean your surface, use the white wipe to dry…sparkling clean, easy as that.  I love that I don't need to use chemicals!!!
Sponge
For cleaning the bathroom and wiping down surfaces
Microfibre cloth
To remove dust.  I don't like to use a duster as I prefer to pick up the dust and shake it off outside.
Cleaning Brush
This brush is from Tupperware, is so versatile, helps to clean window tracks, bathroom sink, shower…almost anywhere.  They come in a pack of 2, I use the other in the kitchen to clean kids drink bottles. 
Do you have a cleaning kit?