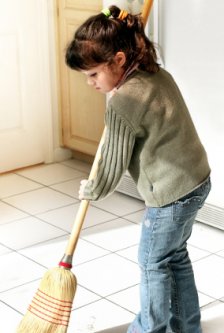 The school holiday's are drawing to a close.  I am sad to see the kids return back to school, we have had a lovely time despite the rainy days bring on cabin fever, tantrums and me going slightly crazy because there were 6 children in my house at one point.  We did however enjoy the swimming pool, parks, baking and fun activities at home, the smiles and giggles makes it all worthwhile and enjoyable.
Since starting this blog I have posted daily, I haven't missed a day (I am proud of my efforts!!!)  But today I am posting tomorrows post early as it is about 'Holiday Home Rescue'.  Getting the home back into order after the school holidays.  I am a big believer that the kids need to help, take responsibility of the mess they contributed to.  Therefore I'm posting early so they can help you a little and then tomorrow, tonight or this afternoon you can get on top of it all.  Then you can calmly continue with LIFE in a beautiful tidy home.
Kids can help with:
Turn on their favourite music and make it fun and enjoyable, sing along loudly to the music, you will have a ball all together.
Get your laundry basket (or find a basket for each child), ask the kids to pick up anything that belongs to them.  Ask them to start at the front door, work their way to the back of the house
Return all the contents in the basket to their rightful home.  This will make a dramatic difference already
Straighten up the books on the bookshelf
Straighten up DVD's, console/computer games
Recycle all the paper that they used to colour with during the break
Pick up all linens and clothes from the bathroom, take it directly to the laundry, replace with new linen
The morning they return to school ask the kids to:
Take sheets off their beds (yes they can do this, my 5-year-old loves doing it)
Open up the curtains/blinds
Open the window, let the fresh air in
Put everything that belongs on the floor (toys, bean bags, doll strollers, dolls high chairs etc) on their bed for you to easily vacuum
Home Rescue Chores:
If weather permits (still raining here on the Gold Coast) make a start on your mountain of washing
Replenish the pantry by doing weekly grocery shop
Return everything on the kitchen counter to its home
Ensure that everything is picked up off the floor
Clean bathroom sink, wipe counters, cupboard and mirror
Clean toilets
Vacuum floors
Mop floor
Replace all bed linen on kids beds
Fold washing while catching up on recorded TV Show's (only way to do it)
Put washing away, lay on the couch, relax and finish the show, you deserve it!!!!
But don't fall asleep you need to pick up the kids from school…lol
Take your time if this is too much to do in one day, break it up over a few days.