This is a guest post by Larissa, from the blog My Pigeon Pair.
Forget buying a new lunch box, sizing uniforms and contacting school book, if you only do one thing now to get your child ready for school, start implementing….
 The Right Routine
Children of all ages need routine but once they start school having a great routine at home is even more crucial.  Having the right routine helps the whole family to stay organised, develops life long time management habits, creates a calm household and even better assists in saving Mum's sanity! Like any habit, starting a new routine takes time so start now!
When the Timing is Right
There are three times of day that school aged children really need routines at home.
Morning.  This is the usual wake up, breakfast, wash face etc etc deal.  For us we have always done this but now we are on a tighter schedule!  We will be starting our new "timed" routine this week.  We are also cutting out TV, computer games or playtime from before school as it is just too easy for us to get distracted, that includes me!  Set a time you need to be out the door and work backwards.
After School.  If you thought before school was busy, wait until after school!  For many children starting school also means the start of after school activities.  In the excitement of booking your child in for Soccer coaching and Gymnastics lessons, remember that especially during their first year of schooling they will be exhausted by 3pm!  Do not over-schedule your child's time after school and be sure to leave time for homework, play and a chat with Mum and Dad!
Even without after school activities there are a lot of routines to put in place to create an organised and happy home.  What do you want your kids to do as soon as they get home?  Where does their bag go? Lunch box? Notes?  Will they eat afternoon tea first and then play?  Or homework first, play later?  Set the ground rules and good habits now and their high school teachers will thank you!
Night.  Like the morning routine, you probably have this one started, but  starting school may mean it's time to change the schedule!  What time will you aim to eat dinner?  What time is bed time?  Will there be a story before bed, a quiet time, or tv time?  Set the boundaries and expectations now and start easing into it.   There is nothing worse for a parent (and the teacher) then dealing with an over tired child.  School is exhausting, allow your child plenty of "down" time at night to relax, read and get ready for a good nights sleep.
Picture Perfect
You know those post it notes you use to remind you or the scribbled notes on you're to do list?  Well kids need those reminders too!  Before they can read (and even when they can) some simple pictures can help reinforce your routine.  Take some photos of your child doing each task, print, laminate and you have your very own routine picture chart!  Or you could buy one right here on The Organised Housewife!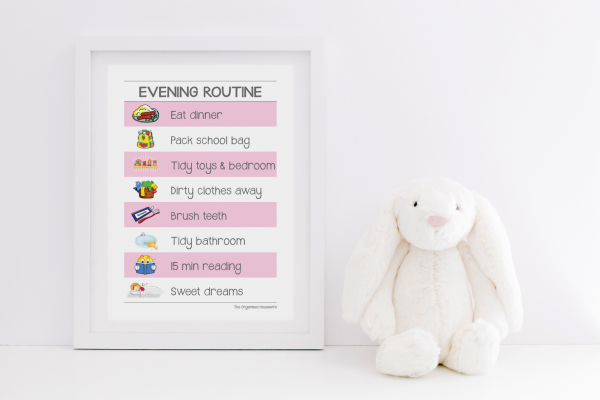 Don't forget Mum and Dad!
This is a great time for Mum and Dad to look at their routines as well.  If you are anything like me you stay up too late at night,  are easily distracted in the morning and then the whole get out the door rush is insane.   Can you pinpoint times when your own routines aren't working? Decide on the time that is best for your family to do all those school tasks.  If the whole school caper is new to you think about:
When will you make lunches?
When will you do homework and read or listen to your child read?
When will you iron school uniforms?
What time of day do you work at your best?
Where will homework be done so the rest of your household tasks will keep running at the same time!
Be prepared for paper
Routines are not just for people.  Routines can take the form of systems to help your household run smoothly.  Once school starts some systems or routines you may like to start could include meal planning, sorting mail and the most important juggling the mountain of school paper work!  Starting school brings with it a lot of paper brought home in the bottom of their backpack!  Newsletters, tuck shop menus, important events calendars, rosters, fee invoices the list goes on! To help stay on top of the mountain of paper, I have started a School File it Folder.  This folder stores the all important notes that come home from school under categories.  It also serves as a place to store school labels and receipts.
Routines whether you love or loathe them will truly help you to establish a household and family that is more organized, calm and the feeling that for once you are on top of things?  Now does anyone have a routine to help me feel on top of toilet training a toddler? AHHHHH!!!!

About Guest – Larissa is a Wife to one, Mum to a "Pigeon Pair", Teacher to a flock and Blogger.  Her personal blog "My Pigeon Pair" chronicles her quest to swoop on the chic and clever ideas to help make their lives organised, delicious, beautiful and smart.
Find our guest: Blog | Facebook | Twitter